This series will follow my exercises in HackTheBox. All published writeups are for retired HTB machines. Whether or not I use Metasploit to pwn the server will be indicated in the title.
October
Difficulty: Medium
Machine IP: 10.10.10.16
The port scan identifies a web server as the sole vector.
The web server has some kind of explicit sleep and takes a long time to respond to requests. This makes directory enumeration difficult. I run a smaller wordlist and after about 20 minutes, I have the following content so far.
I can start looking into these endpoints while I let that run in the background. From the initial content, I can see this is running October CMS (box name is a giveaway as well).
http://10.10.10.16/backend reveals a login form. I guess admin / admin and find that these credentials are correct.
searchsploit shows that there is a Metasploit module that exploits an authenticated session.
I go ahead and use the exploit/multi/http/october_upload_bypass_exec module in Metasploit to get a user shell as the www-data user.
I can get the user flag. From here I upload Linux Smart Enumeration (LSE) to the target and execute it to enumerate the system.
The most interesting item is that a setuid binary exists on the system that www-data can execute.
LSE is a great enumeration script. A setuid binary is an executable with the SUID bit set. This means that the file is executed with the privileges of the file owner, regardless of the user that executes the file. Given that root owns the /usr/local/bin/ovrflw file, this means that if I can get the ovrflw binary to somehow execute a shell, the shell will spawn as the root user.
Given the name of the file, I assume that this will require a buffer overflow. Indeed, I can verify that an overflow vulnerability exists by passing a large input.
I got a segmentation fault. Time to copy down this binary onto my machine and get it prepped for buffer overflow analysis.
On my machine, I set up netcat to listen for data and output it to a file.
Since nc is present on the target, I can transfer the file with the following command.
I use md5sum to verify that the local file I have is the same as on the server.
I also need to check the architecture of the target system. This is a 32-bit machine running Ubuntu 14.04.
Since I want to match the target as closely as possible when developing the buffer overflow, I'll use an Ubuntu 14.04 image. The closest I could get was https://releases.ubuntu.com/trusty/ubuntu-14.04.6-desktop-i386.iso, which is pretty close. I spin that up in VMWare and begin installing. You can use Virtualbox, but I feel that Virtualbox VM performance is significantly worse than VMWare. There is also ubuntu/images/ebs/ubuntu-trusty-14.04-i386-server-20180627 under public community AMIs on AWS, so you can try that out.
In the VMWare VM, which takes about 5 minutes to install, I set up gdb and PEDA. PEDA is Python Exploit Development Assistance for GDB. It's a beneficial complement on top of gdb.
I copy my binary over to this test VM.
Now I start my analysis.
This view of the registers and memory addresses comes from PEDA.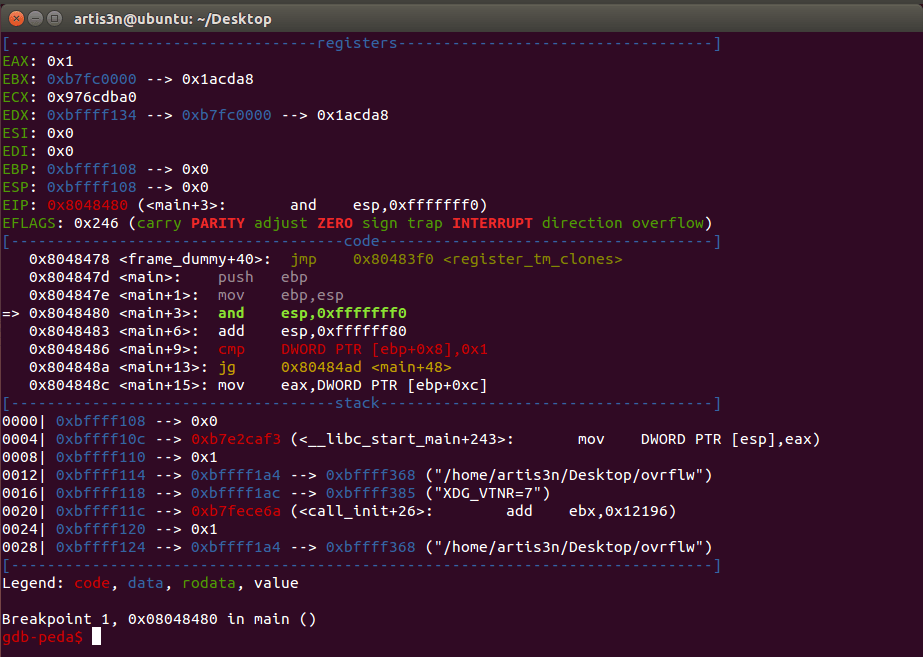 I can check the security flags compiled into the binary with PEDA's checksec command.
NX is enabled, but I don't really care about that. I should also check whether ASLR is enabled on the target machine.
On the target, I get libc's memory address (0xb7565000) with:
I see that repeated invocations of ldd /usr/local/bin/overflw show that libc's memory address changes every time.
This means that ASLR is enabled. This means I cannot rely on grabbing static memory addresses from the target system for a return-to-libc attack, because the memory addresses will be different each time.
For the meantime on my test VM, I disable ASLR to get a basic buffer overflow exploit working. I will have to modify it to bypass ASLR, but one step at a time. To disable ASLR, you have to su to root and run the following command:
On the test VM, I can now see that ASLR is disabled, as the libc memory address does not change.
On my Kali host, I generate a pattern to find the buffer offset. This will tell me how many bytes of data I need to pad my exploit with to fill the executable's buffer.
In the test VM, I use this pattern as input to the program while running in gdb to find the snippet of the pattern in memory when the application crashes. Yes, I will have to keep jumping between hosts throughout these commands. Double check what host I have bolded!
It looks like 0x64413764 was the data that caused the program to crash.
Back on the Kali host, I run this hex code through pattern_offset to find the exact number of offset bytes: 112.
On the test VM, with ASLR disabled, I can construct a buffer overflow exploit with the following setup. I need the memory addresses of the system calls system and exit, and the memory address of /bin/sh. This will let me construct a return-to-libc attack. I explain this in more detail in my HTB Frolic writeup.
I get the memory address of system - 0xb7e53310.
I did not copy the p exit command and result, but you would repeat the above for exit instead of system.
I get the memory address of /bin/sh - 0xb7f75d4c
With these, I can create the following (ASLR disabled) exploit.
If I pass this program's execution as input to the ovrflw binary on the test VM, I get a root shell.
However, this is only with ASLR disabled. With a working base exploit, I can now re-enable ASLR to continue developing my exploit.
With ASLR re-enabled, libc's memory address again changes every time.
HOWEVER!
Inspecting this output, I notice that the memory addresses stay relatively the same. They generally all begin with 0xb75, some with 0xb76. They all end in 000. Really, only the two bytes in the middle are changing each time. This means there are 512 possibilities for libc's address in each invocation. In other words, I have a 1/512 chance of guessing libc's memory address each time I invoke the executable. If I exploit the binary 513 times, there is an extremely high chance that I will see one of these addresses again. In fact, due to the birthday paradox, I only need about 30 guesses to get over 50% probability that I'll correctly guess libc's memory address.
https://www.dcode.fr/birthday-problem
I can use the first memory address in the above list, 0xb75b9000, and brute force the payload until I get a shell. Note that this only works because we can crash this program as many times as we need without breaking the server.
So, now I need to gather memory addresses from the target system instead of my test VM.
I get libc's memory address on the target - 0xb755c000:
Now I need the memory offsets of system, exit, and /bin/sh from the relative location of the memory address of libc. This allows these three memory addresses to be correct as long as we guess the correct libc address during any execution. We get these memory offsets with readelf on the /lib/i386-linux-gnu/libc.so.6 library, as that is in the result of the previous libc memory address command.
The [email protected]@GLIBC_2.0 address is 0x00040310.
The [email protected]@GLIBC_2.0 address is 0x00033260.
Since /bin/sh is not a system call like system and exit, I cannot use readelf to get its memory offset. Instead, I can just use strings against the libc library.
The /bin/sh memory address is 0x00162bac.
Now I create my final payload. This script will run my exploit a maximum of 512 times.
I upload this payload to the target machine and execute it. Within a few seconds I have a root shell!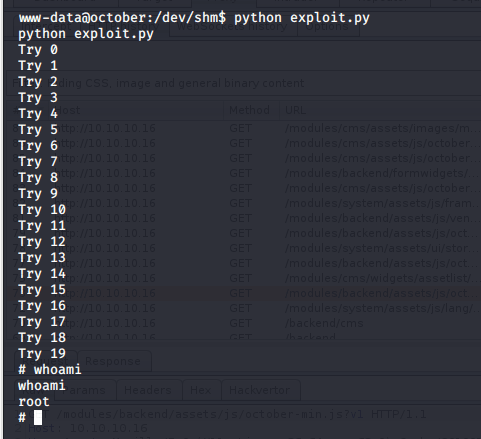 I am off to grab the root flag.